PREGNANCY CARE
Advice, information & support to plan for:
Your pregnancy
Your labour and birth
Breastfeeding
Being home with your new baby and
Becoming parents.
Promoting & monitoring the wellbeing of you and your baby.
Debrief previous experiences and ask questions.
BIRTH AT HOME
Benefits include:
Two midwives on call for your labour and birth
Labour and birth in comforatable, familiar surroundings
No separation from support people
Reduces infection risk and advserse outcomes
Decreases need for intervention & pain relief
Improved breastfeeding rates
Homebirth is not everyone's cup of tea, but if you are interested, please see the Birth at Home tab for more info!
POSTNATAL & LACTATION
Breastfeeding advice and support
Birth debriefing and celebration
Maintain and support your health and healing post-bith
Help you to get to know your baby: cues, settling, sleep, general care
Well-baby check, weighs, oral assessment
Support from IBCLC Lactation Consultant
Hire or purchase SPECTRA breast pumps/parts
LEARNING
Sessions can be arranged 1 on 1 or in a group and can cover:
Knowing your body during pregnancy and birth
Understanding hospital practices & your options
Preparing to breastfeed
The fourth trimester:
What to expect
Sleep and settling
Baby massage
Baby first aid
New parents'groups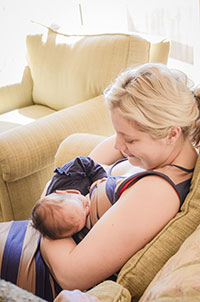 Birth at home
CARE midwifery provides birth at home depending on your individual circumstances.  Ali or Mel will utilise their high level knowledge and skills to provide you with the best advice and care.
Services are limited by distance and availability.
Please contact us by email for more information info@caremidwifery.com.au